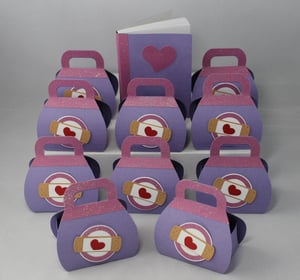 $

3.50
My little Doc McStuffins inspired favor boxes can be made in two different sizes.
Small bag (3.5"tall, 3" wide, 1.75" deep) - $2.50
Large bag (5.25" tall, 4.75" wide, 2.75" deep) - $3.50
Big book of boo boos (4.5" tall, 3" wide) - $2.50
* Sizes are for the fully assembled boxes, including handles.
*CANDY AND TOYS ARE NOT INCLUDED. BOXES ARE EMPTY.
All orders take two weeks to ship. If you need your favors shipped before two weeks, please email craftsbyrosa@gmail.com
There is a 20% rush order fee for all orders that ship before two weeks.
**All sales are final.
Simple assembly required.